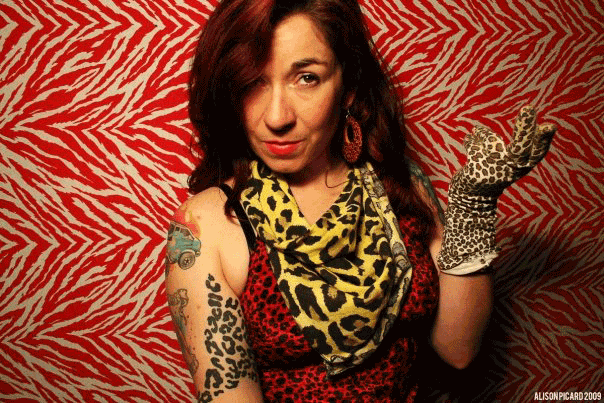 Photo by Alison Picard
As a performance artist, musician and troublemaker I'm
Damien Luxe.
As a writer, activist, DIY media maker & teacher, textile artist & event curator
I roll out as Hadassah Damien.
And it's Miss Hadassah Damien
to some of you.

If you made it to my site you know that I like to be loud and unruly about liberation, bodies & sex, femininity and queers, and that I like to hate on the endless fake-ass wars abroad and in the USA in which oppressed people in this country are dying, and real death like oil & money keeps flowing to the privileged. But in case you didn't, there it is.
Yeah yeah Damien,
but what do you *do*?
Visit the overly-detailed About page or just explore some of the links and media on this site.
UPCOMING & NEW PROJECTS
Exorcise: An ongoing performance piece that takes Homorobics x healing justice x somatics x spandex.
Seen on the Heels on Wheels Glitter Roadshow tours, in Philly at Lemonade July 17, in Montreal at Perver/cite August 3, and in Brooklyn at the Vent Festival.
The Fist Is Still Raised: a visual culture research project on the history of the raised fist image in political art. There's an online archive, and I also do a live slideshow.
ONGOING
Heels on Wheels Glitter Roadshow queer femme performance art!! An annual tour and monthly Brooklyn events.
Terra Incognita Intentional gathering several times a year in the Northeast of artists to retreat, vision and inspire each other.
Work Hard/Stay Hard: This is a building project which takes place each September, which benefits the queer-owned land Idyll Dandy Acres in middle Tennessee, home to Idapalooza and queers who dream of hollers and farming.
DIY Tech/Events Hart Collective || Heels on Wheels Design
Past Projects
Department of Transformation Assortment of Brooklyn/travelling circus-like artists intent on massive cultural production and queer supremacy.
Hot Pink Mass: participatory performanceinvoking femmeifestations and Trisha
I <3 Queer Femmes Femme Family NYC | Femme Collective Media Co-Chair
Push-Up-A-Thon a videotaped month-long project [Dec. 2010] where I did 20+ push-ups every day in a different location, sometimes with help, always with a story.
Femmes Fight Back: Touring performance honoring feminine rebellion
House of Trisha: Photoshoot | Lexicography | her history
Ice-9 A series of dance-hits and cabaret performances about science, technology and sexuality. Gaybomb song/video about a Gay Sex Takeover, toured Europe with Maplechasers Jan 2010. Sweet.
MFA in DIY the photoblog I occasionally update as I travel the continent
Choose Your Own Gay Teen Punk Adventures: story cycle and wanna-be podcast
Exquisite Witness | external site: Science + Stories!
$pread Magazine: love them! I produced the mag for a few years...